Commodore
The class Commodore is Andy Allen of Lake Wawasee, IN. Andy has been active in the class for a long time and is also an avid E scow and iceboat sailor.  Andy often sails with his daughter, Emily, and is a sought-after  rigger and boat repair expert.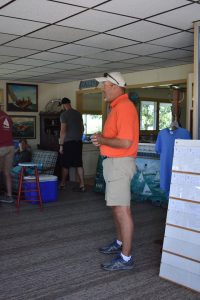 Vice Commodore
Joe Ewing takes over as being the vice commodore this year. He is a great guy from Indian Lake and is awesome sailor. You always have to look for ID 4 on the race course.
Treasurer
Stew Harris is handling the accounting for NISSA. He is the driving force behind Inland 20s on the Potomac River. He has also organized several national calendar regattas on the East Coast and has personally converted more than eight Inland 20 scows from its predecessor scow, the M20.
Secretary
Terry Moorman is keeping notes for NISSA. He is a regular competitor on Lake Wawasee IN and attends the national championships every year. Terry is also on the board of the Lake Wawasee Yacht Club.
Rear Commodore
Kenny Bolles is the rear commodore and immediate past commodore. Kenny was instrumental in bringing the Inland 20 to Lake Wawasee, IN and has worked hard for 20 years to ensure the Inland 20 remains a strong class.