Top honors for the 2019 Cherry Blossom Regatta in Washington DC would come down to this: the final leg after the final rounding in the final race.
Until then, the fourth annual race might have gone to either of the visiting rivals.
From Indian Lake, Ohio, with his son Cole as crew, Joe Ewing was looking for his first regatta win over the class champion and de facto Inland 20 ace., Aaron Lynn of Wisconsin. Lynn had stung Ewing many times, most recently on Ewing's own lake eight months earlier. It was a national championship, and Lynn's partner in victory was his 12-year old daughter, Kate.
At Cherry Blossom, Lynn was working with local crew, Steve Cain, because Kate had classes. Of course.
Odds makers gave Ewing a whisker more of a chance this time. He has sailed the tricky currents of the Potomac on five occasions, winning the Cherry Blossom in 2018 and 2017.
So the two arrived with plenty of purpose.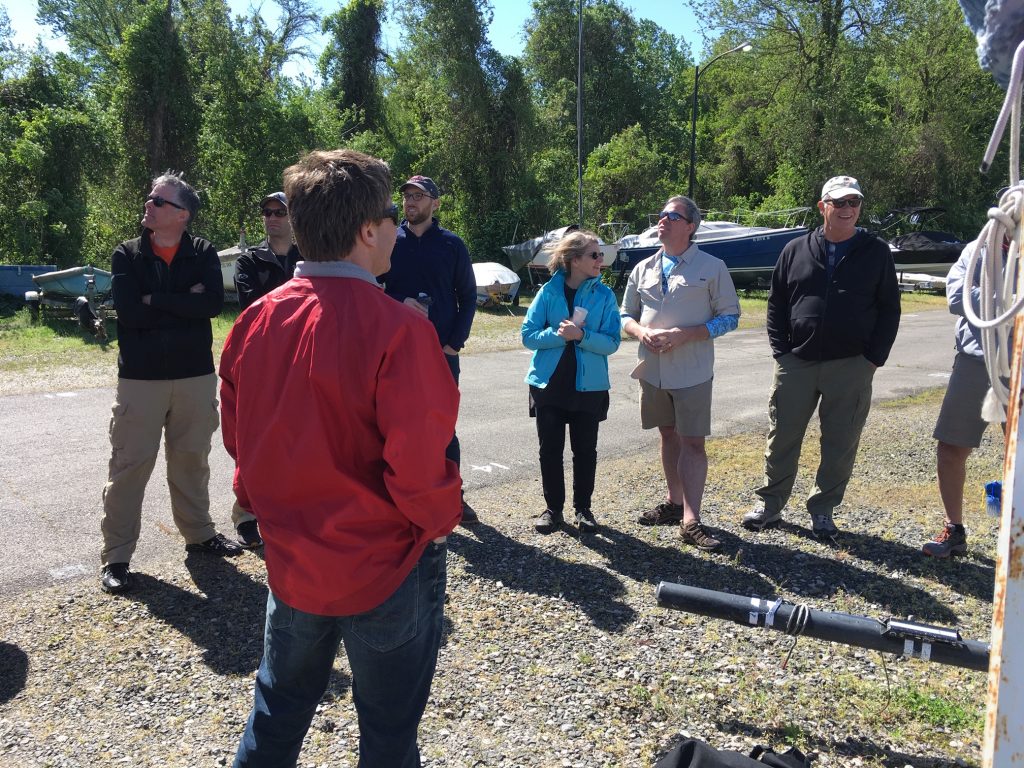 On day one, April 27, winds topping 40 knots forced postponement. Lynn turned the down time into a primer for local sailors, offering his personal spin on a tuning guide he published on the class website last year. With 20 sailors gathered around, he unspooled tuning tips, like these for light air: full board downwind and backstay for pre-bend to flatten the main.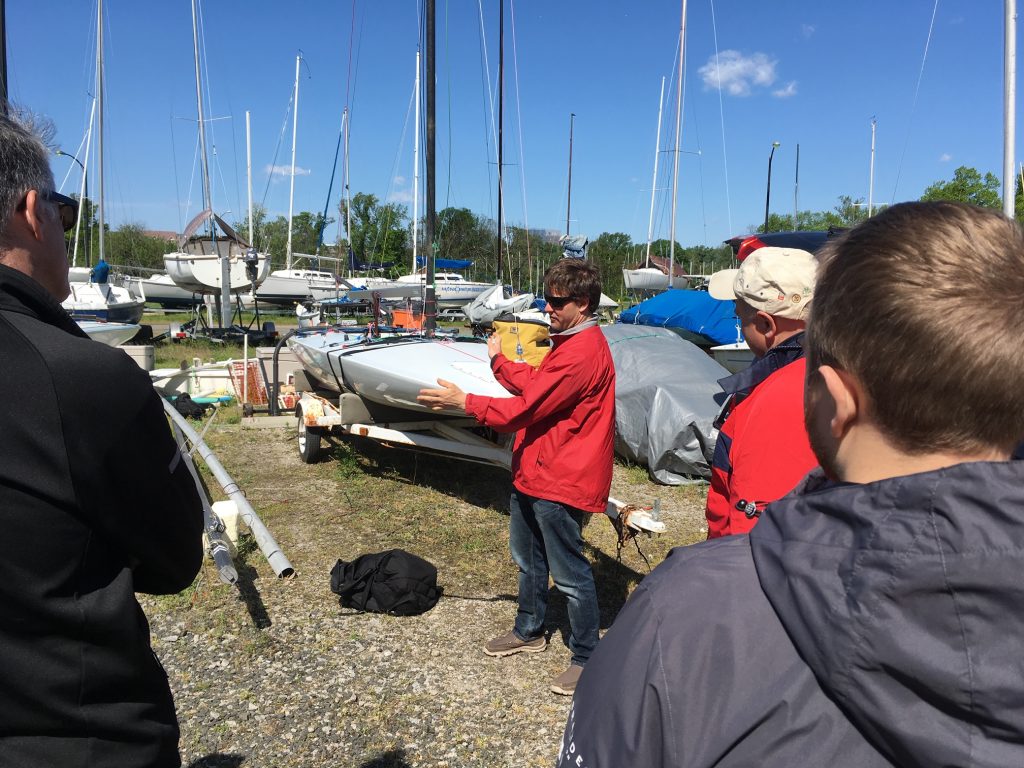 And, he shared that he is truly a "happy skipper " on the leeward side…whenever conditions required it. With the boat on its ear, the waterline extends and the unique concave hull becomes a canoe.
Never go flat unless initiating hydroplaning, Lynn counseled.
Day two saw almost no wind for two hours as boats battled to make it to the start. As a 2-5 southerly filled in, the class flag was dropped with Lynn and Ewing footing off for speed. They made the first mark with the rest of the fleet spread out behind them. Downwind, it was Ewing in command. Two leeward roundings and a mid course finish put Ewing up by one.
The second race would not be as straightforward. Ewing had speed at the line, but Lynn closed at the windward mark. What neither expected at their first rounding was something the locals see often enough: a strong inbound tide that required overstanding. Ewing cleared; Lynn touched the offset.
"I lost (the mark) behind the spinnaker and got close," Lynn explained. "Then, the board hooked the line below the water and pulled the mark into the boat." By the time he made his penalty turns, Ewing was out front.
Lynn has always done well under pressure. "I don't remember how I caught back up." But he did and the two were trading leads on the following upwind. That final downwind saw the boats seesaw as well.
"There were times when I thought: We got him!" Ewing explained. "Then, on the next jibe, he would be ahead of us."
At the final rounding, Lynn had clawed his way ahead several boat lengths.
In the Race Committee boat, PRO Aaron Boesencker knew something special was happening.
"Aaron (Lynn)was ahead at the leeward mark, and initially did a good job covering Joe," Boesenecker shared in a text.
Lynn tacked east at the mark, heading back into the middle of the river. Ewing, who had seen pressure off the airport on other visits east, decided to roll the dice.
"Aaron (Lynn) tacked at the leeward mark," Ewing explained in a text a few days after the race. "I just rounded up and was happy with the pressure compared to his, so I chose to stay in it. He was so far ahead and to the left he had no cover on me. Less current (near the airport) was a bonus, but not my reason for the course. Even if he tacked when I rounded up we were in two different winds."
"That, combined with a hooked windward jib sheet on Lynn's last tack, meant that Joe was able to come back," Boesenecker said. "Granted, Ewing was headed to the right (airport shore) which was not the favorable side all day as Lynn headed back into the river and into a bit of a header. Perhaps that was the calculation (eat the header now for a better layline into the finish). But still…I was surprised to see him give up his covering position and allow such lateral separation on the last beat."
Asked after why he did not tack over to cover Ewing, Lynn said: "That would have been the tactical thing."
As Ewing saw it, Lynn had achieved so much distance at the rounding. " I would not have bothered to cover me either."
Pos
Sail
Boat
Skipper
Yacht Club
1
2
Total
Pos
1
ID-4
BoatyMcBoatFace
Joe Ewing
Indian Lake
1
1
2
1
2
ID8
TwentySomething
Aaron Lynn
Oshkosh
2
2
4
2
3
ID3
Freedom
Mark Buchheit
Indian Lake
3
3
6
3
4
6
Artemis
Pragathi Katta
Potomac River Sailing Association
5
4
9T
4
5
PO806
Alrighty Then!
STEWART HARRIS
PRSA
4
5
9T
5
6
PO-1
Uffdah
Trip Hook
James Hook
Potomac River Sailing Association
7
6
13T
6
7
PO 11
Kabluey
Timothy Dickson
Timothy Dickson
PRSA
6
7
13T
7
Photos!